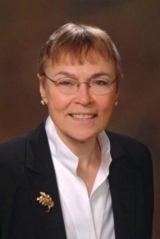 Catherine Johnson
Senior Sales Associate, CBR, CRS, GRI, SRES | Wellesley Office
617-413-5414
781-235-9307
About Catherine
The ownership of Hammond has recently changed and we are now part of Coldwell Banker, one of the most impressive real estate organizations in the world. Our new owner appreciates the value of the Hammond brand name and we will now be doing business as Coldwell Banker Residential Brokerage - The Hammond Group. Our combined resources will provide an unmatched level of real estate marketing and brokerage services to everyone we have the pleasure to represent.
PLEASE click on this link to see my new website.
A longtime resident of Wellesley, Catherine has been active in residential brokerage for the past nineteen years. Over that time, she has developed a loyal following of clients who appreciate her approach to the business, her follow-through, and her market knowledge. Respected by her peers, Catherine has served both as a Council President for the Greater Boston Real Estate Board and as a Director. Before becoming a broker, she was employed corporately and independently in graphic arts. Among her clients were Houghton Mifflin; Little, Brown; and the Guggenheim Museum. Her educational background includes an undergraduate degree from Brown and a graduate degree from Yale. As the mother of two boys who have attended Wellesley schools, and as a member of several local organizations such as the Wellesley Club, Catherine knows and serves the community well.
Catherine has been appointed by the Board of Selectmen and the Planning Board to fill a vacancy on the Planning Board beginning July 1, 2013 through Town elections in March, 2014. For the past three years, she was a member of Wellesley's Advisory Committee, the board responsible for recommending action on the Town budget, financial plan and warrant articles to Town Meeting Members. During this period, she served as Advisory's liaison to the Planning Board for two years.
For a sampling of properties that Catherine is currently marketing, please go to the "Links" page.